2015年12月10日
Reviewer: Ryan Tacadena
Photo credit to: Anna Tacadena
The newest incarnation of the famed Hi-Capa series to hit the United States. the Gold Match has stunning new accents to make fellow players drool with envy.
As you can see in the two above pictures, the most notable differences between the Gold match and the other pistols in the Hi-Capa line are the Gold plated parts that stand out from the standard black finish.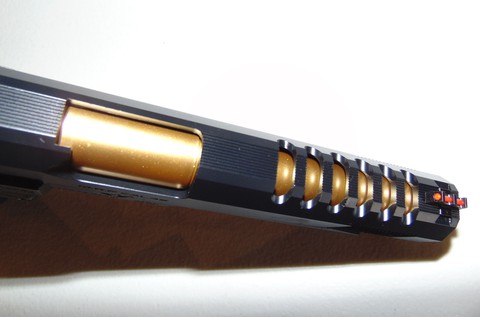 The gold barrel is a striking contrast to the black slide.
Six deep cuts in the slide also show off the gold barrel and add a beautiful custom look to the slide.
The trigger, hammer, ambidextrous safety, and grip screws are also gold plated to further separate this pistol from the rest of the Hi-Capa line.
Another added feature is the red fiber optic front sight that replaces the standard white dot front sight. Not only does it look cool, it enhances the speed with which you can acquire your target in your sight picture.
The Hi-Capa Gold Match not only lives up to the standard of performance excellence that people have come to expect from Tokyo Marui, it does so in grand style. Come into Echigoya USA and see for yourself what the buzz is about.
---
2015年12月09日
2012年07月29日
2012年07月29日
2012年07月29日
2012年07月28日
2012年07月28日
2012年07月28日
2012年07月27日
2012年07月27日
2012年07月27日
2012年07月26日
2012年07月26日
2012年07月26日
2012年07月25日
---