上記の広告は1ヶ月以上記事の更新がないブログに表示されます。
新しい記事を書くことで、こちらの広告の表示を消すことができます。
---
2012年06月09日
私たちのブログを訪問していただきありがとうございます。あなたがお持ちの場合DIYの要求は私達に電子メールを送信してください。
IWI (Israel Weapon Industries) will be debuting their new 40x46mm GL 40S Grenade Launcher at upcoming Eurosatory '12 expo. It is a standard single shot grenade launcher that integrates well with the Tavor. It is side opening and so accommodates longer 40mm rounds.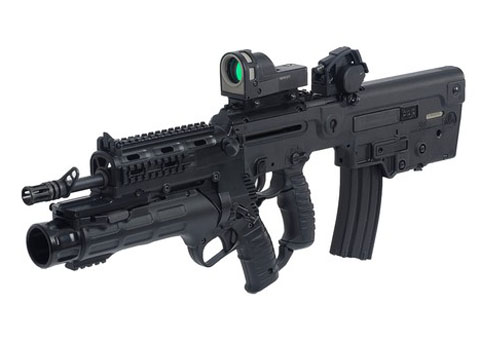 IWI X95 with IWI GL 40S Grenade Launcher, MEPRO 21 Reflex Sight and Meprolight Grenade Launcher Sight (GLS)
BLOG ARCHIVES

---
2012年06月07日
私たちのブログを訪問していただきありがとうございます。あなたがお持ちの場合DIYの要求は私達に電子メールを送信してください。
The XM25 has received positive reviews from soldiers on the ground who have used the weapon on patrols as part of the Army's Forward Operational Assessment.
BLOG ARCHIVES

---
2012年05月16日
私たちのブログを訪問していただきありがとうございます。あなたがお持ちの場合DIYの要求は私達に電子メールを送信してください。
M203-style 37mm launcher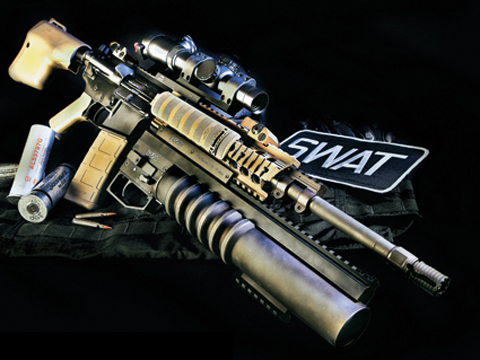 The UBL-37 mounted on the Del-Ton Custom Mid-Length gives officers the option of a 37mm less-lethal or 5.56mm lethal response. It is shown equipped with a Leupold Mark 4 MRT riflescope.
The manual safety, visible just above the trigger on the frame, will show "red" when in the fire position. The manual cocking lever is just above it.
The UBL-37 allows for more versatility than most commercially available 37mm launchers. Note the strips of rail on the top of the barrel and below.
The trigger on the UBL-37 is a smooth single action variety. Unlike the military 40mm M203, it must first be cocked manually via a lever on the opposite side.
BLOG ARCHIVES

---
2012年04月18日
私たちのブログを訪問していただきありがとうございます。あなたがお持ちの場合DIYの要求は私達に電子メールを送信してください。
New full-auto grenade launcher system with target acquisition and ranging technology!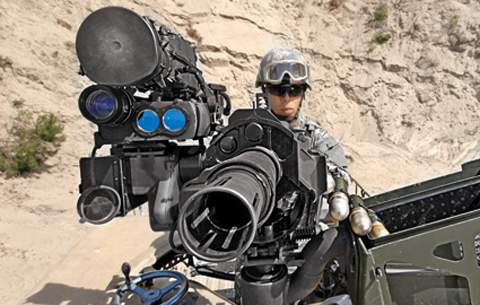 The Mk 47 Mod 0 40mm ALGL mates to a high-tech integrated target acquisition and ranging system as well as with HEAB ammo to become a new order of weapon that not only delivers first-round hits, but can deliver PP-HE/SD aerial burst rounds as well.
From the first rock or stick thrown, either at an adversary or at a creature that looked like food, the object of projectile or missile weapons has been to put destructive energy on the target. Until the advent of gunpowder, it was merely the weight and mass of the projectile transferring kinetic energy to the target. But as soon as it was discovered that an exploding projectile or missile could additionally carry chemical energy to the target, exploding missiles were used, followed by cannon with bursting projectiles. Of course both these methods are still used today.
Carrying kinetic energy to the target requires a projectile with both mass and velocity, which requires a strong and therefore heavy launch system, whose weight rises exponentially with the mass and velocity of the projectiles used. This reality has tended to limit kinetic energy rounds to small arms at one end of the scale or anti-armor artillery pieces at the other.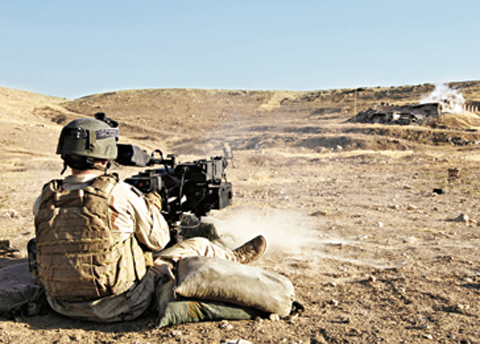 A SpecOps trooper gets familiar with the Striker 40mm as it was first deployed to the sandbox. The integrated target acquisition technology delivers the rounds just behind what would ordinarily provide cover.
The advantage of the larger shell is that it can carry a lot of chemical (explosive) energy in addition to its kinetic energy. What has always been needed is a system for Infantry that would deliver usable chemical energy at infantry ranges. First came hand-thrown grenades (the name coming from the pomegranate, which the early ones resembled); then came rifle adapters to throw specialized grenades farther and more accurately. Finally in the late 1950s were fielded dedicated grenade launchers in the form of the M79 "Bloop" gun that fired a self-contained cartridge with explosive projectile. This idea worked so well, it was soon followed by various crew-served belt-fed versions with similar projectiles, such as the preeminent Mk 19, which has been copied, licensed and imitated with varying degrees of success.
By F.W. Demara
BLOG ARCHIVES

---
2012年03月02日
私たちのブログを訪問していただきありがとうございます。あなたがお持ちの場合DIYの要求は私達に電子メールを送信してください。
Extreme Duty Munitions 37mm launcher — ultimate less-lethal option!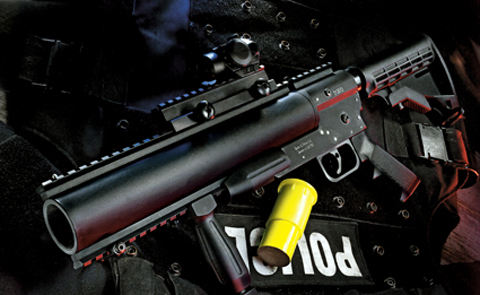 The Bates & Dittus ExD-37 less-lethal 37mm launcher provides law enforcement officers with a rugged and reliable weapon system for use in crowd control and barricaded suspect situations.
One of the new wave of must-have accessories in the civilian tactical world, which also is directly applicable to the law enforcement tactical world, is the 37mm "grenade" launcher. Whether the launcher system mimics the U.S. military's 40mm M203 under-barrel grenade launcher for mounting on an AR-15/M4 Carbine, is shoulder-mounted or a pistol-style standalone model, more and more companies are introducing various versions for civilian use. But they are not just for civilians. Unless otherwise specified, these single-shot launchers will also fire any law enforcement 37mm round as well.
The launcher is capable of handling a wide array of 37mm munitions due to its break-open action, and produces an impressive sight when fired.
Why are they so popular now, particularly in the civilian tactical arena? Well, there are a number of reasons, the first being for wildlife control. When firing the civilian-legal flare and exploding rounds that are available, they are great for warding off flocks of birds or other unwanted pests that you don't want to, or are prohibited from, killing. Deer control around gardens comes to mind as a great application where legal.
The single-shot unit breaks open with the barrel tipping down, allowing the user to load a 37mm round directly into the breech.
When they take the form of an M203 grenade launcher look-alike they add an awesome look to your M4 carbine, and may even be able play a less-lethal role in defense of your property or ranch. Unless of course, you live in suburban or urban areas, where activities that involve launching any sort of projectile, even a BB from an airgun would be frowned upon.
By Scott Wagner, Images by Sean Utley
BLOG ARCHIVES

---
---