上記の広告は1ヶ月以上記事の更新がないブログに表示されます。
新しい記事を書くことで、こちらの広告の表示を消すことができます。
---
2015年12月10日
Reviewer: Ryan Tacadena
Photo credit to: Anna Tacadena
The newest incarnation of the famed Hi-Capa series to hit the United States. the Gold Match has stunning new accents to make fellow players drool with envy.
As you can see in the two above pictures, the most notable differences between the Gold match and the other pistols in the Hi-Capa line are the Gold plated parts that stand out from the standard black finish.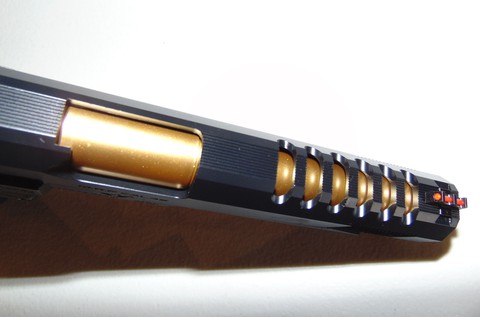 The gold barrel is a striking contrast to the black slide.
Six deep cuts in the slide also show off the gold barrel and add a beautiful custom look to the slide.
The trigger, hammer, ambidextrous safety, and grip screws are also gold plated to further separate this pistol from the rest of the Hi-Capa line.
Another added feature is the red fiber optic front sight that replaces the standard white dot front sight. Not only does it look cool, it enhances the speed with which you can acquire your target in your sight picture.
The Hi-Capa Gold Match not only lives up to the standard of performance excellence that people have come to expect from Tokyo Marui, it does so in grand style. Come into Echigoya USA and see for yourself what the buzz is about.
---
2015年12月09日
Reviewer: Ryan Tacadena
Photo credit to: Anna Tacadena
Although it's been out in Japan for a while, it has only been available in the United States since the beginning of 2015. It is based on the rifle used by Navy S.E.A.L's.
Based on the 416 D platform but with a shorter barrel designed to be used with a suppressor.
Suppressor attachment on short barrel.
H&K trademark is printed on the bolt shield.
Charging handle has an extended lever. Split D ring for sling mount and ergonomic grip.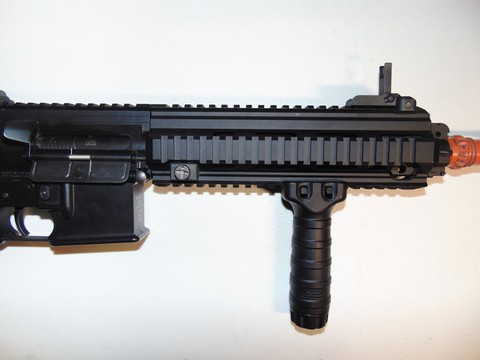 Close quarters barrel without suppressor.
Full-length quad rail with long vertical fore grip that has a cut out for a pressure plate.
H&K trademark with rifle designation and caliber.
Rear sight post can be adjusted for height and flips down to make way for optics.
The front sight is adjustable and flips down. The front rail has clips for a sling on both sides and the suppressor has realistic "front towards enemy" markings.
All in all, this is an almost exact replica of the rifle used by the S.E.A.L's who killed Osama Bin Laden. It's a beautiful addition to any airsoft collection.
---
Posted by echigoyaworks at
14:24
---
---