2012年07月26日
私たちのブログを訪問していただきありがとうございます。あなたがお持ちの場合DIYの要求は私達に電子メールを送信してください。
Swiss twist on a classic design with features that today's SWAT officers demand!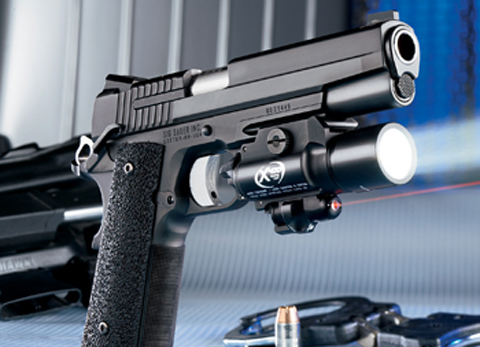 Sig Sauer's 1911 Tactical Operations pistol is as reliable as it is versatile, shown here with a SureFire X400.
The most enduring design of John Browning remains the 1911 pistol. In fact, a good argument can be made that the 1911 is the most timeless handgun of all time. Taking that position one step further, you would be very hard-pressed to come up with another technological innovation introduced 100 years ago that remains on the cutting edge today. For the better part of the 20th century, commercially made 1911s were only available from a single source. That has all changed and 1911 pistols are now available from a number of manufacturers. However, quality varies tremendously and in the end you'll get exactly what you paid for.
A few years ago, Sig Sauer introduced a line of 1911 pistols, a move that took many of us by surprise. After all, Sig Sauer was turning out some first rate DA pistols. Why make a move into unknown territory? Why not? If this firm could turn out a world class DA pistol, they just might be able to apply that expertise to the most popular self-loading pistol of all time.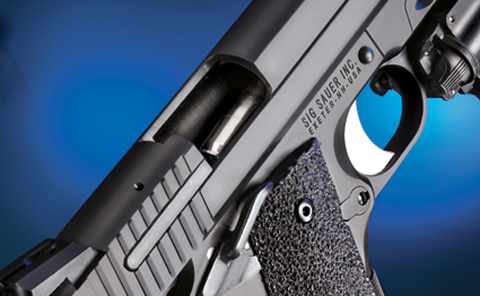 Ambi safety is standard on the Sig Tactical Operations pistol.
Recently, I was able to check out a Sig Sauer 1911 Tactical Operations pistol chambered in .45 ACP. The Tactical Operations pistol is a full-size, all-steel 1911 pistol that has everything you need and nothing you don't. As its name implies, this heavy-duty pistol is designed for the SWAT officer, but would also be a solid choice for patrol or personal defense.
Like all Sig Sauer 1911 pistols, the Tactical Operations embodies the classic qualities of the Browning original along with modern innovation.
BLOG ARCHIVES

---
Posted by echigoyaworks at 21:00
---
---
---