2012年07月27日
私たちのブログを訪問していただきありがとうございます。あなたがお持ちの場合DIYの要求は私達に電子メールを送信してください。
Underground Skunkworks' rugged, surgical sniper with a 3/8-MOA guarantee!
Hand finished from muzzle to receiver, the Perseus features an 11-degree recessed crown. Its threads are cut to within .0001-inch or less. With its adjustable Manners MCS-T4A stock, the precise and solidly built Perseus provides the shooter with an instantly stable and consistent firing platform.
In an age where new offerings come with equal parts marketing pitch and reductive disclaimers, it is a bit of a shock, at first, to encounter a rifle that not only shoots to its manufacturer's claims, but exceeds them. The Columbia Falls, Montana, rifle company Underground Skunkworks, or UGSW for short, has produced what might be the finest production precision rifle on the market today—the Perseus. Designed for law enforcement missions requiring surgical engagements of targets, the Perseus is a rugged and reliable tool with razor-thin accuracy.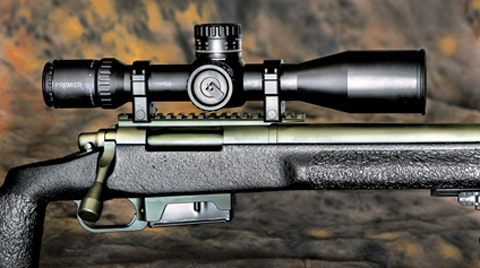 Sporting a custom-designed, Timney-made trigger, the Perseus' 911 action can accept AW or AICS magazines and be topped off via the breech.
From his humble beginnings as an engineer, UGSW President and Founder Mike Bush has applied an obsessive attention to detail and practical design techniques to correct the flaws and enhance the strengths of the modern-era bolt-action precision rifle. Raised at his father's elbow, who was a law enforcement officer, in their Mobile, Alabama, diesel shop, Bush went on to earn a degree in electronics engineering. With both a formal and practical education in engineering and design, Bush fostered a lifelong interest in perfecting mechanical precision and long-range shooting. Watching firsthand as FBI HRT shooters tested, broke, fixed and improved upon existing production rifles, Bush learned a crucial lesson in rifle design: "I was disappointed in what I saw as an across-the-board inconsistency in the tolerances of production rifles. Twist rates, fit and finish varied considerably within a single model produced in the same production run from the same factory."
For the Perseus, Bush set out to design a duty rifle that modernized the M24/M40 platform, keeping what worked and eliminating what did not. "The core capability of this system had to provide both cold-bore and sustained-fire accuracy. There is little on the rifle that is not available somewhere on the open market, but the key is how the highest quality components are harmonized and fit."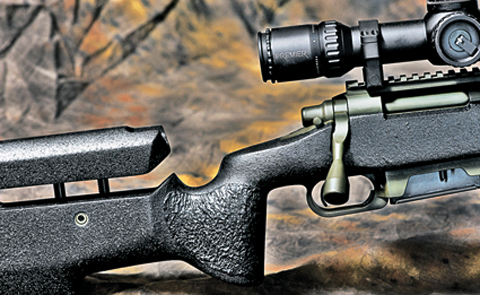 The Perseus features oversized bolt knobs and an Oberndorf-style mag release for fast handling in wet conditions or with gloved hands.



BLOG ARCHIVES




---
Posted by echigoyaworks at 21:00
---
---
---