2012年07月29日
私たちのブログを訪問していただきありがとうございます。あなたがお持ちの場合DIYの要求は私達に電子メールを送信してください。
High-speed, low-drag AR-10-style rifle with repeatable sub-MOA precision!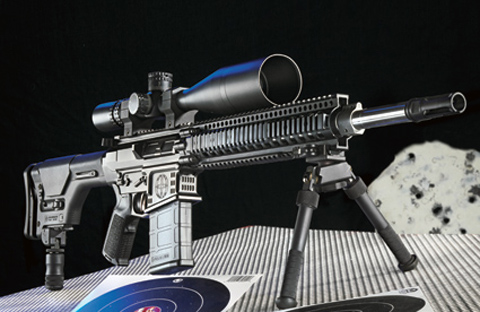 Iron Ridge's IRA-X family of rifles focuses on getting the important stuff right. The result is a truly exceptional and customizable AR-10-style rifle with all the attention to detail to make it a precision powerhouse. To get the most out of the IRA-X Thor, a Nightforce NXS 5.5-22×56mm scope was mounted.
When it comes to succeeding in a tactical environment, most experts will agree that it ultimately comes down to a matter of doing the basics better. "High-speed, low-drag" doesn't mean complicated or advanced; it means the ability to perform critical tasks flawlessly under any circumstances—in short, getting the important stuff right. While that wisdom is certainly valid when it comes to tactical skills, it is equally applicable to equipment manufacture. And getting the important stuff right is what Iron Ridge Arms' IRA-X AR-10-style rifles are all about.
Iron Ridge Arms is a manufacturer and custom shop that specializes in Class II and Class III firearms. Nestled discreetly in an industrial park in Longmont, Colorado, it is owned and operated by veteran gunsmith, machinist and designer Oliver Mazurkiewicz. Through his many years of experience customizing and modifying all brands of tactical rifles and carbines, Mazurkiewicz developed a keen understanding of the critical qualities necessary in that breed. And while many manufacturers do an excellent job of providing these qualities, as a custom gunsmith, Mazurkiewicz always saw room for improvement. He believed that if that extra attention to detail were incorporated into the fundamental construction of the rifle, its "basics" would literally be as good as they could get.
Starting with the right foundation—the IRA-X has meticulously machined upper and lower receivers that are fitted perfectly to withstand the harshest conditions.
The core of the IRA-X is its meticulously machined upper and lower receiver. Designed and engineered to meet Mazurkiewicz's exacting specifications, these parts are CNC-machined from solid billets of 7075-T6 aluminum in the Iron Ridge shop. Although they are designed to accept components purchased from DPMS, which Mazurkiewicz has carefully selected as "the standard" of quality and consistency for drop-in parts, they are not your run-of-the-mill receivers.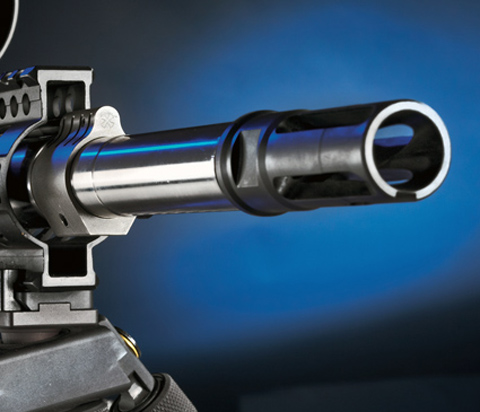 The IRA-X Thor tested for this article featured a custom-machined Rock Creek barrel fitted with a SureFire FH762K03 flash suppressor.
BLOG ARCHIVES

---
2012年07月29日
2012年07月29日
2012年07月28日
2012年07月28日
2012年07月28日
2012年07月27日
2012年07月27日
2012年07月27日
2012年07月26日
2012年07月26日
2012年07月26日
2012年07月25日
2012年07月25日
2012年07月25日
2012年07月24日
2012年07月24日
2012年07月24日
2012年07月23日
2012年07月23日
2012年07月23日
2012年07月22日
2012年07月22日
2012年07月21日
2012年07月21日
私たちのブログを訪問していただきありがとうございます。あなたがお持ちの場合DIYの要求は私達に電子メールを送信してください。
Last frontier lawmen protect 2,000 square miles of extreme country with cutting-edge weapons and tactics!
Members of the APD S.W.A.T. sniper team blend into their arctic surroundings with MARPAT overwhites. Knight's Armament SR-25 MK 11 rifles are their main guns.
"APD, Channel One units, respond to an 11-5 in progress at 4501 Elmore Road. Complainant advises there is a bear charging their sliding glass door."
That's not an everyday call, but it's not uncommon, either, when you're a police officer in Anchorage, Alaska. I first saw Anchorage in March of 1978. I was a few years out of the Army and was trying to get hired as an Alaska State Trooper. I was blown away that the ice on the parking lot was still 2 inches thick, there was 2 feet of snow on the ground, and that it was 16 degrees. It was offset by the fact that I was in Alaska.
Anchorage officers are cross-trained to handle many duties. Strong community relations are a key tactic in helping to keep the peace.
Anchorage is policed by the Anchorage Police Department (APD). The Municipality of Anchorage is the largest in Alaska. The population of nearly 300,000 souls is almost half the population of the state, but 90 percent of the state's residents use Anchorage as their transportation, shopping and recreation hub. Lots of rural residents come to town to see the lights, party a little too hard and need police services. Police calls are made more difficult when the temperature is -30, with a 10 mph wind blowing off the inlet. Summers are fairly short and intense; with 24 hours of daylight, Alaskans tend to ignore sleep, knowing they can catch up in December. It can result in long, hard workdays for the APD.
Anchorage S.W.A.T. practices mobile air operations with a Black Hawk helicopter, which they use to deploy to remote areas faster.
Since Anchorage is a "distance-isolated city in a distance-isolated state," the APD relies on excellent police-community relations to accomplish the mission. There is constant demand for demonstrations from schools, youth groups and job fairs, and vehicles and K-9s are special hits with school kids. In order to maintain close public ties, the APD uses outreach teams, school resource officers and a citizen police academy to improve communication and cooperation; a volunteer Search Team helps find lost folks and search for evidence. The APD is also moving toward assigning officers to the same areas in an effort to form stronger community ties.
BLOG ARCHIVES

---
Posted by echigoyaworks at
12:00
---
2012年07月20日
私たちのブログを訪問していただきありがとうございます。あなたがお持ちの場合DIYの要求は私達に電子メールを送信してください。
Like the U.S. Navy SEALs who are trained and have been deployed in a wide variety of missions, including direct action and special recon, unconventional warfare, counter-terrorism, and other missions, TW has your back!
French statesman Duc de Richelieu (1766-1822) was once reviewing a proposed military campaign. When an officer placed a finger on a map with the remark, "We shall cross the river at this point," Richelieu replied, "Excellent, sir, but your finger is not a bridge."
Grand plans and big talk are one thing; For the grand plan to survive the first contact with an enemy depends on the total readiness of the forces involved. Give the Duke credit: Even in that distant time, he knew his forces would have to be mission ready—with weapons, tactics and combat psyche.
Today's military and LE operators routinely must meet mission readiness requirements, of which no soldier from Richelieu's time could have dreamed. How today's professionals are doing exactly that is the theme of this special "Mission Ready" edition of TW.
Individual firepower is always an important subject in TW, and this issue covers the topic particularly well. For openers, consider our testfire report on the new Remington Semi-Automatic Sniper System made in partnership with JPE and AAC. Another sniper testfire covers the Steyr SSG08 now available in .338 Lapua Magnum.
BLOG ARCHIVES

---
2012年07月20日
私たちのブログを訪問していただきありがとうございます。あなたがお持ちの場合DIYの要求は私達に電子メールを送信してください。
Designed for the professional marksman to perform in the harshest of conditions!
When one thinks of precision tactical rifles, one of the first names that come to mind is McMillan. McMillan has established a well-deserved reputation for manufacturing some of the highest quality and most accurate rifles on the planet.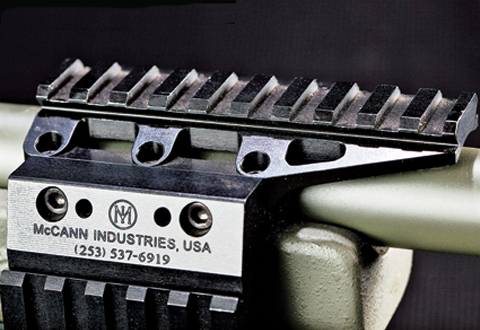 The TAC-308 came equipped with a McCann Industries forward rail system to offer even more "real estate" for accessories.
McMillan manufactures a complete line of rifles for sport shooters, competitive shooters and military or law enforcement marksmen. If a standard McMillan rifle doesn't meet customer requirements, the company will build a rifle that does. All rifles include a McMillan custom pillar-bedded fiberglass stock, a match-grade stainless steel barrel and Remington type trigger, and are finished in DuraCoat, a durable wear-resistant polymer.
The McMillan TAC-308 Tactical Rifle uses their "top of the line" G30 action, built by the company to aerospace standards, with each action CNC-machined from a solid billet. The action material is 17-4 stainless steel, which is tougher and more corrosion resistant than the 4000-series alloy often encountered in firearms. The steel is hardened to 42-43 Rockwell C. The action face is absolutely perpendicular to the bolt axis. General tolerances are held to 0.005 of an inch, while critical components are machined to 0.0005 of an inch. The chamber and barrel threads are cut to critical tolerances and then hand-fitted.
All McMillan barrels are premium, hand-lapped, match-grade stainless steel, capable of delivering exceptional performance. A removable cap protects the rifle's threaded muzzle (shown) that can accept a variety of suppressors or muzzle brakes.
BLOG ARCHIVES

---
Posted by echigoyaworks at
16:00
---
2012年07月20日
私たちのブログを訪問していただきありがとうございます。あなたがお持ちの場合DIYの要求は私達に電子メールを送信してください。
Next-gen M60 general-purpose machine gun—lighter and faster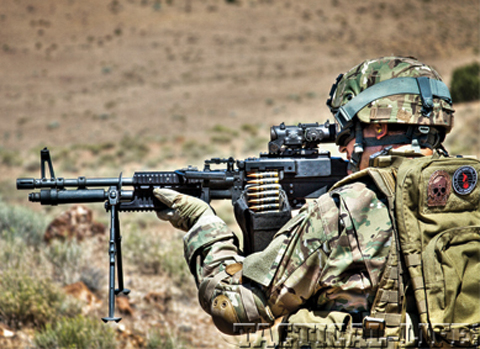 The U.S. Ordnance MK43 represents 22 key improvements on the M60 base model, cutting redundant parts and creating a lighter, more accurate machine gun that can produce a superior volume of fire downrange.
When most think of a machine gun, they picture a weapon supported by a bipod or fixed mount being fired by one man as others pass ammunition. The U.S. Ordnance MK43 Mod 1, a 7.62×51mm General Purpose Machine Gun (GPMG), changes this view by giving soldiers a fully automatic belt-fed weapon designed specifically to be shouldered and fired from off-hand, kneeling and prone positions by a lone shooter. The MK43 represents the latest improvement to the M60 series of machine guns to which it belongs.
First introduced in 1957, the M60 has seen service with every branch of the U.S. military, and remains in their arsenals over 50 years later. Since the late-1970s, however, its dominance has steadily declined as the M240 was phased in as a more reliable and easier to maintain weapon despite its higher cost and solider complaints about its heavier weight. U.S. Ordnance is looking to change this trend with the MK43, which maintains the familiar design of the M60 while addressing the negative issues of preceding models. A modified M60E4, all of the MK43's major components are directly interchangeable with other M60 configurations, and older weapons can be converted to the updated design by an armorer within 30 minutes without any requirement for complex tools or machines.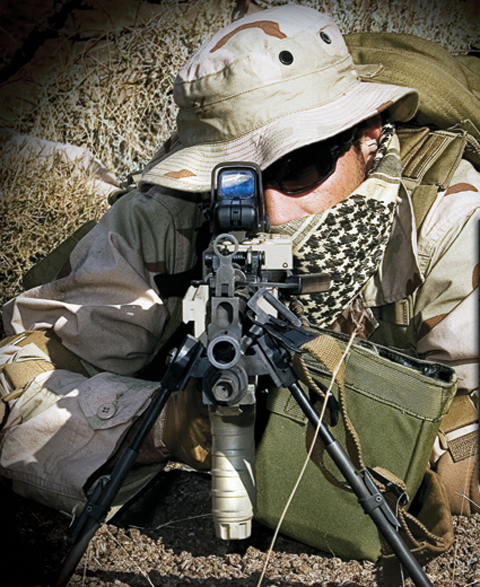 M60 Reborn
Available in both ground and mounted configurations, the MK43 is a gas-operated, disintegrating link, belt-fed and air-cooled medium machine gun that fires from an open bolt. Weighing only 20.61 pounds with its long barrel, the weapon is lighter than its predecessors and its M240B competition, and has an associated smaller length, ranging between 37.7 inches to 42.4 inches overall depending on barrel selection. The weapon's cyclic rate of fire is 500 rounds per minute with a muzzle velocity of 2,800 FPS. Its maximum range is 4,075 yards and its effective range is 1,200 yards.
Light and compact, the MK43 provides increased mobility and uniquely allows for accurate, controllable off-hand shooting.


BLOG ARCHIVES




---
Posted by echigoyaworks at
10:00
---
2012年07月19日
私たちのブログを訪問していただきありがとうございます。あなたがお持ちの場合DIYの要求は私達に電子メールを送信してください。
Highly specialized precision rifle with custom-style enhancements and accuracy!
Savage's Model 10 FLCP-K in .308 is a left-hand precision rifle that offers LE users a sub-MOA rifle for less than $1,000. Shown equipped with a Leupold Mark 4 4.5-14×50mm ER/T scope and Versa-Pod bipod.
A first thought, the precision rifle market would seem to be a prime example of this reality, with high-end custom models built off of production rifles boasting sub-MOA accuracy can run easily into the thousands of dollars. So, to be able to reliably put lead on target in sub-MOA groups time after time, the bottom line is that you must purchase a multi-thousand dollar rifle that has been custom-tuned within an inch of its life, right? Wrong.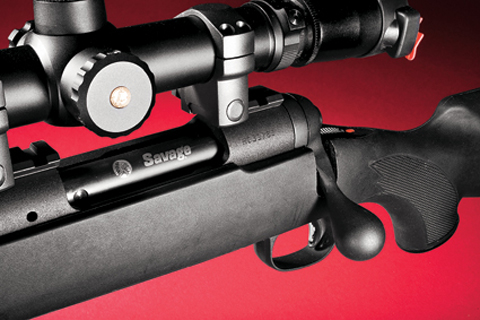 The left-handed action of the Model 10 FLCP-K features an oversized target-style bolt handle and is drilled and tapped.
Enter Savage Arms and its Law Enforcement Series of rifles. And a prime example of the specialized capabilities of these rifles is the Model 10 FLCP-K, a left-handed .308 bolt-action rifle with a suggested retail price of a mere $893. This platform, also available in .223, offers law enforcement officers a highly specialized precision rifle that won't break even the most strained of today's budgets.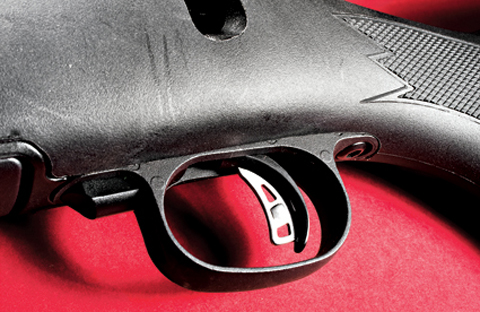 The AccuTrigger is designed to be safe from accidental discharges through a sear-blocking trigger safety located in the center of the trigger.
The backbone of Savage Arms' rifle line is actually a simple, arguably unattractive (although I find utilitarian to be beautiful) bolt-action rifle that the company has been producing in one form or another for about five decades. That rifle was the Model 110, designed by a former employee named Nicholas Brewer and one with a very novel approach to manufacturing. Specifically, it prized modular adaptability and ease of production over more subjective aesthetic concerns.
BLOG ARCHIVES

---
2012年07月19日
私たちのブログを訪問していただきありがとうございます。あなたがお持ちの場合DIYの要求は私達に電子メールを送信してください。
Rugged, reliable, accurate—it's READY FOR DUTY!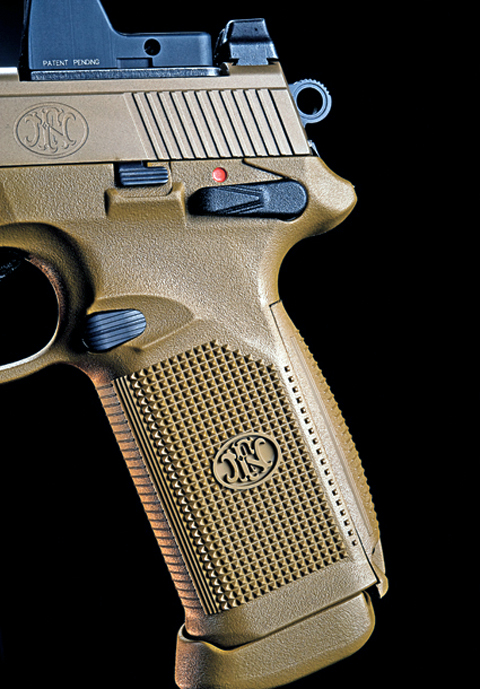 When you're in the field, simple is what you want in a sidearm. Sometimes you just have to react and pull the trigger — it's that simple. For the better part of the 20th century, "simple" in terms of military sidearms was defined by the numerals 1-9-1-1. Over the last 100 years two schools of thought have emerged, actually two differences of opinion, one that favors the Colt Model 1911/1911A1 and its derivatives as an ideal large caliber sidearm, and one that doesn't.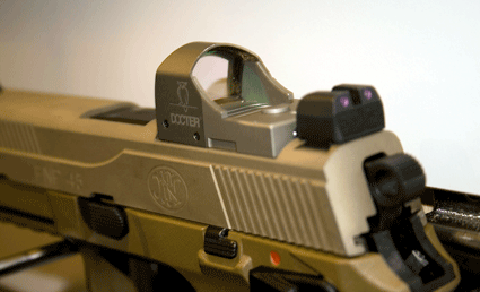 FNH USA's FNP-45 Tactical is the perfect .45 ACP pistol for those who subscribe to the belief that a single-action semi-auto carried cocked and locked is not ideal. The line of demarcation is simply a choice. In 1985, our government made that choice and switched from the venerable Colt Model 1911A1 to the DA/SA Beretta M9 9mm. The .45 ACP was no longer the caliber of choice for a military sidearm. The choice that Fabrique Nationale brings to the table with the FNP-45 Tactical is that most favorite of options: a .45 ACP, DA/SA semi-automatic that can be safely decocked and carried with a chambered round. There are many handguns that offer this feature — some nearly as old as the Model 1911. Few, however, do it quite as well as the new FNP-45 Tactical.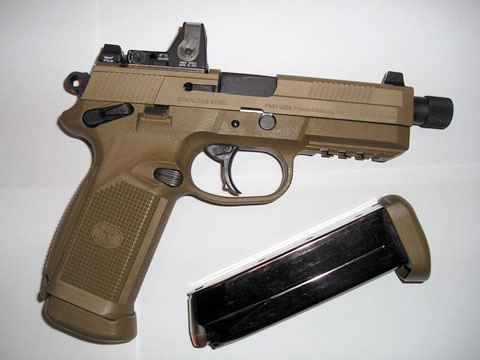 BLOG ARCHIVES

---
Posted by echigoyaworks at
16:00
---