2011年11月30日
2011年11月30日
2011年11月30日
私たちのブログを訪問していただきありがとうございます。あなたがお持ちの場合DIYの要求は私達に電子メールを送信してください。
Designed by Eugene Stoner, one of designers of M16 rifle, after he left ArmaLite in about 1961 and joined the Cadillac Gage Corp.
MK23MG is the only military application of the Stoner 63 system, however, was the Mk.23 model 0 belt-fed light machine gun configuration, used in limited numbers by US Navy Special Forces and Marine Corps in Vietnam.
In general the Stoner system, while having the advantages of modularity and interchangeability of parts and thus great flexibility in tactical use, was somewhat too expensive and also slightly over-complicated for a dedicated light machine gun. It was also somewhat dirt-sensitive and required much attention and maintenance.
Overall, some 3,500 to 4,000 Stoner 63 weapon kits were produced between 1962 and 1971. Of those, some 2400 Stoner 63 Light machine guns were purchased by US Navy for issue to special forces in Vietnam, and about 100 more were bought for US Navy S.E.A.L.'s in improved Mk.23 mod.0 version.
G&P has proudly reproduced this legendary Vietnam War light machine gun to all airsofter
1/1 Scale Electric Powered Airsoft AEG
FULL METAL Constructed from G&P Industry
Super Solid Built with weight over 4.5kg
Full Metal Receiver, fluted barrel (one-piece constructed), gas tube, charging handle & magazine feed unit
Equipped with 8mm Gearbox (Modified Version 2 Type) with Steel Gears & Spring Guide
Ready to go for 360FPS Muzzle Velocity
Electric Auto Winding 1200 rounds Drum Magazine (Gearbox + 9V battery powered)
Can be stored up to 10.8v 3300mAh Battery into fixed stock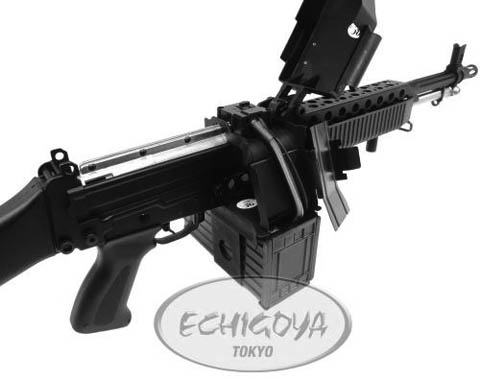 NEWS ARCHIVES

---
2011年11月30日
2011年11月30日
2011年11月30日
2011年11月30日
2011年11月29日
2011年11月29日
2011年11月29日
2011年11月29日
2011年11月29日
2011年11月29日
2011年11月29日
2011年11月28日
2011年11月28日
2011年11月28日
2011年11月28日
2011年11月28日
2011年11月27日
2011年11月27日
2011年11月27日
2011年11月26日
2011年11月26日
2011年11月26日
2011年11月25日
2011年11月25日
2011年11月25日
2011年11月25日
2011年11月25日
---